Sugar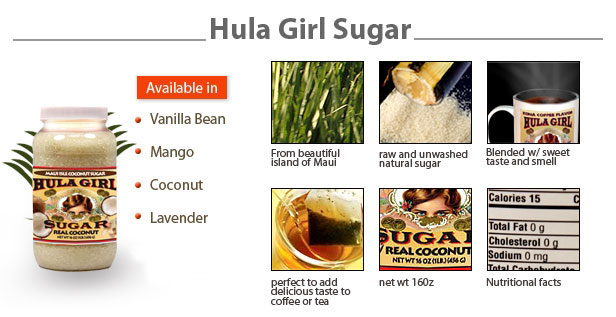 The vegetation in Hawaii offered a perfect environment for raising sugar cane. Porous lava soil soaks up rain and stores water from the frequent tropical rains deep in underground pools. The sun shines all year round, and the cooling ocean currents keep the average temperatures around 75 degrees.
The Hawaiian Islands make up the United States fourth smallest state. The islands are the tops of volcanic mountains, some still active. Because of the rugged terrain and the nature of the soils, only certain low lands near coasts are tillable. The remaining land is in forest, pasture, and conservation use, or otherwise unusable.
Consequently, Hawaii's sugar companies were all located along the coastlines of the four largest islands and reach into the foothills and upward along mountain slopes. The islands of Oahu and Hawaii saw their final sugarcane harvests in 1996. Today, sugarcane is grown on about 70,000 acres on Kauai and Maui yielding some 340,000 tons of raw sugar.
Hula Girl Plantation White Liquid Sugar
Made from Maui's own Sugar Cane
Liquid cane sugar is carefully crafted to sweeten premium coffees and teas. It complements your beverage without overwhelming it. Its sweet cane sugar taste inhabits the tip of your tongue — not the bottom of your glass.
Flavor profile: A clean, sweet taste that inhabits only the tip of your tongue. Its pleasant temperament can only be derived from pure sugar cane and purified water.
Recommended uses: Iced tea. Hot tea. Iced coffee. Hot coffee. Cappuccinos. Lattes. Espresso. Lemonade. Cocktails. Baking. Cereals. Yogurt. Over fruit. Anytime you would use a granulated "white" sugar.
Hula Girl Vanilla Sugar
From the Beautiful Island of Maui comes this raw unwashed natural sugar infused with specially imported Vanilla beans to bring a delightful experience guaranteed to add a special flavor to your coffee, tea or whatever.
Enjoy!
Net wt 16 oz (1 lb) (456 g)