10% Kona Cinnamon Flavored Coffee Box of 6 K - Cups
Box of 6 10% Kona Coffee Single Servings  K Cup
Cinnamon Flavor
Medium Roast
Fits the New K-2 Machine
Specially Roasted Smooth Taste.
Discover the powerful taste of  KONA COFFEE, famous for its highly aromatic and smooth flavor.
HAWAIIAN GROWN and made from the finest Kona Coffee beans, combined with South American beans and a hint of cinnamon for a great flavor. 
Brewing Instructions:
BREW - Place the Hula Girl Coffee filter into your Single-Serve machine and then get your freshly brewed Hula Girl Coffee.
ENJOY: Finally, enjoy the best Coffee, in your cup!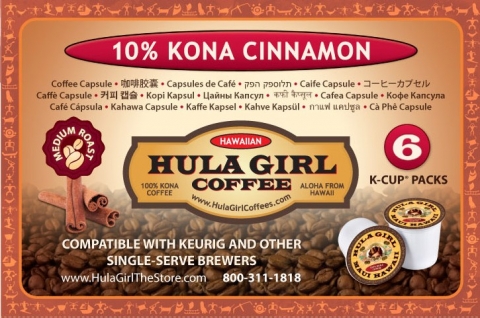 Flat shipping rate of 7.50 for the fist item and $1.00 for each additional item.
Shipping Weight: 66 gr. (2.33 oz) (0.15 lbs)
Item UPC: 782358 125368
List price: $15.00
Dimensions: length: 6 in X width: 4 in X height: 2 in

Ask-a-Question About This Product